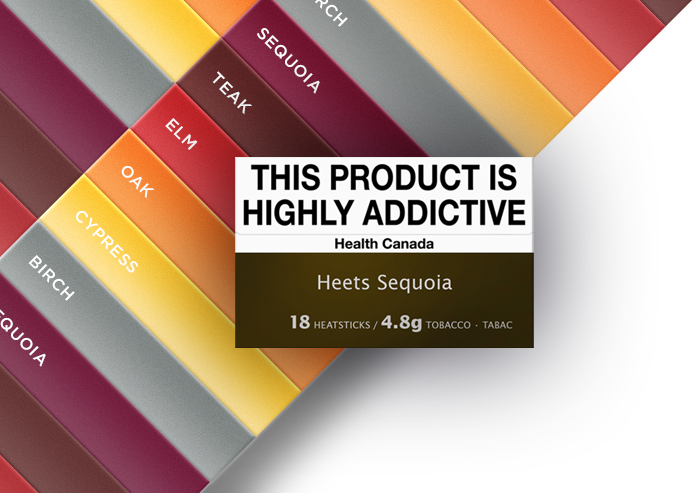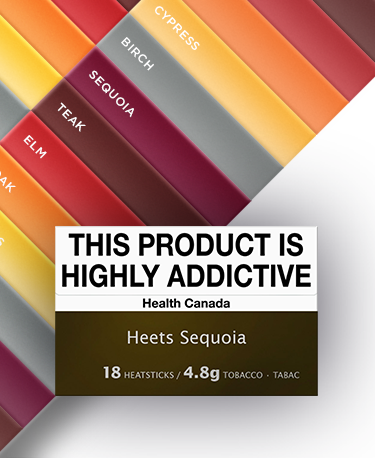 What are HEETS?
HEETS are specially designed tobacco sticks that are intended for exclusive use with the IQOS heated tobacco devices, IQOS 3 DUO and IQOS 3 MULTI. Your IQOS device heats the tobacco rather than being burned like cigarettes - with no smoke, no ash and less smell. HEETS are inserted into the IQOS holder and heated to a temperature of 350°C so that you can enjoy the real taste of tobacco.
• 6* HEETS flavours available from robust to mellow tobacco blends: Sequoia, Oak, Birch, Elm, Teak and Cypress.
• All HEETS flavours are available in carton formats of 54 HeatSticks and 180 HeatSticks
• Each session lasts up to 14 puffs per HeatStick (similar to that of a cigarette)
*Flavour availability differs by province
HEETS ENGINEERING

What is inside HEETS?
Ultra compact and precisely engineered HEETS design is all about delivering a consistent tobacco experience. The tobacco is specially prepared and compressed so just the right amount touches the heating blade inside the IQOS holder. The vapour released then passes through a cooling plug made of corn-based materials which cool down the vapour making the temperature just right.


TOBACCO FLAVOUR

Creating the perfect taste
Heat is at the heart of it all. IQOS HeatControl™ Technology heats tobacco from the core up to 350ºC, releasing nicotine and consistent tobacco flavour with no smoke, no ash and less smell. The result is a sophisticated tobacco heating system without burning, providing the true taste of real tobacco.
THE BLENDS
Find your perfect flavour
*Only available in British Columbia